Following a restful night's sleep, wake up to a complimentary Quick Start Breakfast or a Hearty Homemade Breakfast that can be enjoyed in the dining room, on the deck overlooking the pool and alpaca farm, in one of the cozy nooks in the inn.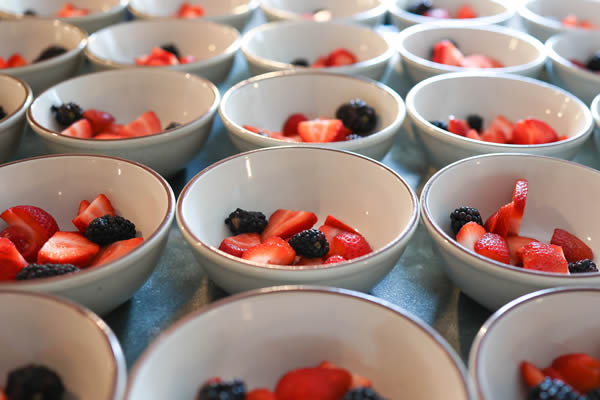 GOOD MORNING MARTHA'S VINEYARD!

Set in our sunny bistro, you can begin your day early with our complimentary "QUICK START BREAKFAST" beginning at 7:30am.
freshly brewed coffee, specialty teas, citrus-mint infused ice water
fresh cut fruit, house-made granola
traditional favorite cereals
all-natural fresh milk, half & half, oat milk
whole grain bread for toast, Vermont butter, fruit preserves
two selections of house-baked goods [conventional and gluten-free varieties daily]
For all guests: coffee, tea, waters and baked goodies remain available throughout the day.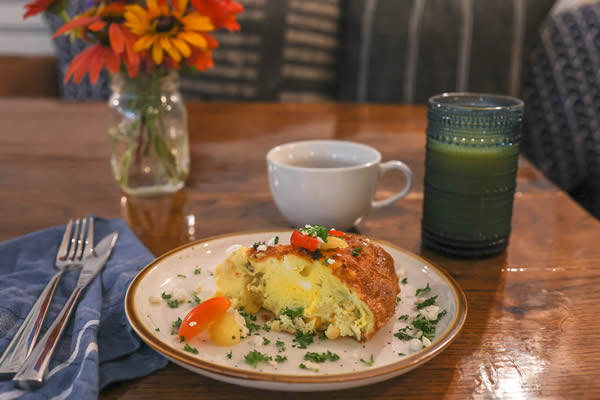 HEARTY BREAKFAST MENU
Available daily from 8am to 10am.
Fruit & Grains
caramelized ruby red grapefruit
garden basil sugar, fruity xvoo splash, fresh garden mint – $8
steel cut oats, organic & gluten-free
slowly cooked with cinnamon & ginger, topped with spiced walnuts, banana & gala apple – $8
add a fried egg – $3
fresh berry & yogurt parfait
seasonal selection, Mermaid Farm yogurt,
island honey drizzle, house granola – $9
anson mill's coarse-ground grits
Vermont cheddar, smoked bacon, scallions,
fresh tomato-herb relish – $11
add a fried egg – $3
Savories
the cove's tartines
a hearty open-faced "toast" on house rye-spelt bread with two soft-boiled sous vide eggs
katama sunrise
avocado, arugula, sunflower seeds, shallot,
lime splash, lemon verbena MV sea salt – $15
martha's catch
smoked MV bluefish, lemon- dill crème fraiche, sweet pickled red onion, cucumber, capers, tomato, – $19
bridget's garden toast
our garden herbs & vegetables, lemony herb pesto, shaved radish & carrot, cucumber, VT goat cheese, micro greens- $15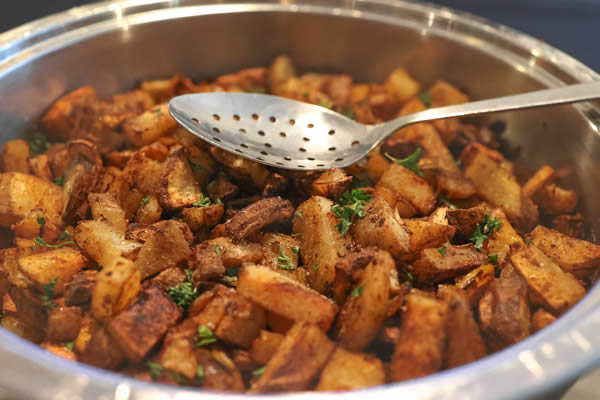 quick breads
nitty gritty pancakes
lemon-blueberry or banana-citrus
Vermont grown organic corn and wheat flours,
served with VT butter and maple syrup – $16
buttermilk waffles
seasonal fruit compote, served with VT butter and maple syrup – $16
eggs
ghost island frittata
roasted local farm vegetables, VT cheddar cheese, red potatoes, fresh herb salad – $16
the cove breakfast
three eggs, breakfast potatoes, bacon or sausage, broiled plum tomato, whole grain toast – $18
up island breakfast burrito
three eggs, house-made Grey Barn pork sausage, VT cheddar, chipotle aioli, pico de gallo, whole wheat tortilla – $19
beetlebung breakfast bowl
two fried eggs, farm greens & vegetables, black beans, spanish rice, avocado and fresh tomato pico de gallo – $19
menemsha scramble
buttery lobster claw & knuckle meat, three soft-scrambled eggs, red breakfast potatoes, broiled plum tomato, buttermilk biscuit – $27
sides

Grey Barn pork housemade sausage – $8
applewood smoked bacon – $7
baby red breakfast potatoes – $5
What our guests are saying …
"Most lovely and magical place! Just returned from the most fantastic and stunning long weekend at Lambert's Cove Inn! I am a picky New Yorker and have nothing but extremely positive feedback for this lovely inn and our experience there. The Innkeepers, Bridget and Galen, went above and beyond to ensure we had a great trip. Our room was clean, charming and had everything we needed. The breakfast was delicious and I loved that they had Oat Milk with the coffee. The private beach passes at Lambert's Cove Beach were amazing- it's a stunning private beach- and we really appreciated the Inn's rides both to and from the beach. We also appreciated that they had plenty of beach chairs and umbrellas for us to borrow for the beach. Lastly, the flowers all over the hotel- inside and outside- are truly spectacular. They really enhanced the experience and made this feel so magical. Lambert's Cove Inn is such a lovely place. I cannot wait to go back!" ~ TripAdvisor, July 2022