Woods Restaurant, Martha's Vineyard
Menus, Hours & Reservations
Dinner at the Lambert's Cove Inn—the Flavors of the Season
Woods features the creative cuisine of award-winning Chef Galen Sampson who sources regionally and locally as much as possible. Always on the lookout for the best and freshest ingredients, Sampson—who was trained by European chefs and spent his formative culinary years apprenticing in the Southwest—combines the classic techniques of Europe with bold American flavors. His dishes reflect a generous spirit along with a deep respect for farmers, anglers, and producers. Sampson, who has farmed himself, creates revelatory culinary combinations that allow simple ingredients to sing in new ways. His food surprises and satisfies.
Whether you are dining alone, as a couple, or as a larger party with friends or family, enjoy the sophisticated, yet down-to-earth, cuisine and warm service at Woods in coordination with wines from our sommelier-curated list.
Woods offers an a la carte menu and a spectacular Chef's 7-course tasting menu for private groups (see description below), both are a celebration of everything summertime on the Vineyard.
Please note that the menus below are samples of what is served nightly, as the menu changes with local product availability.
Dinner reservation required for peak season of July and August.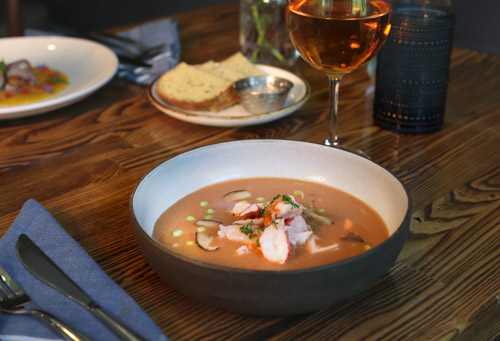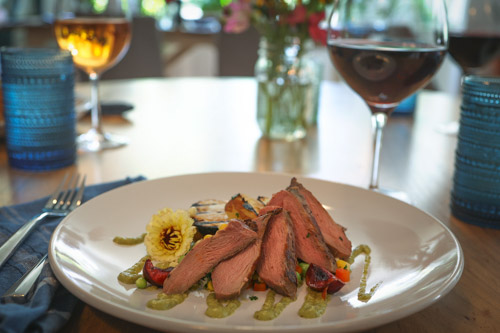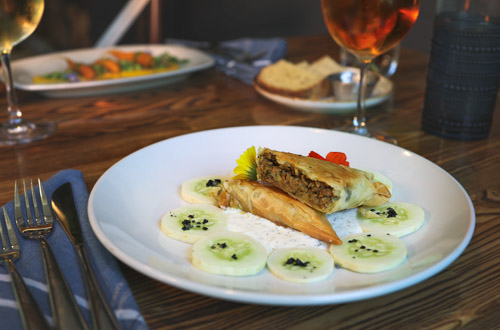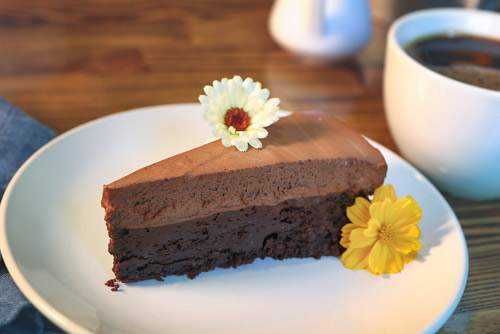 WOODS RESTAURANT
Lambert's Cove Inn
90 Manaquayak Road
West Tisbury, MA 02568
Restaurant Days / Hours
September: Wednesday & Thursday Only from 5-9pm
Woods Restaurant will close for the season on Thursday, September 21st
Limited restaurant days due to Fall Wedding Season.
Reservations strongly recommended.
______________
*For in-house guests only:
Breakfast is served 7 days a week.
***
A limited a la carte Chef's Dinner Menu
Available Sunday through Tuesday / 5-7 pm
Please note: time slots are limited, and reservations are required 24 HOURS in advance
The Utmost in Vineyard Elegance: our Seven-Course Chef's Tasting Menu in the Private Forest Room
Enjoy your own private dinner adventure with Chef Sampson. This $175-menu, driven by what Chef can forage and source for the day of your dinner, is an inspiration of the moment and a tribute to the Vineyard farms and waterways and to the ingredients they provide. He'll be present at the serving of each dish and will provide your group with the creative and geographic provenance of each course.
Veggie lovers welcome! Chef Sampson excels at highlighting vegetables and is happy to work with you to create a completely vegetarian or vegan tasting menu. (Chef can also create vegetarian options for vegetarian or vegan guests joining a regular tasting menu crowd.)
What you need to know: Minimum number of guests for the Chef's menu is eight, with a maximum of 14. Before the event, Chef and his team will coordinate with you so that he can accommodate any dietary restrictions or allergies and food preferences in your party.
Great complementary wine pairings: Chef and his wife can also provide fantastic, interesting wine pairings from our sommelier-curated wine list that will make each course shine. Wine pairings are an additional $150. Our team will discuss any particular wine preferences with you before the dinner.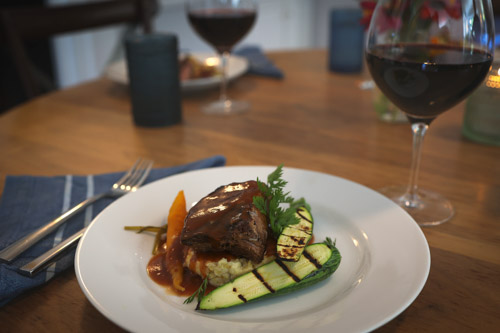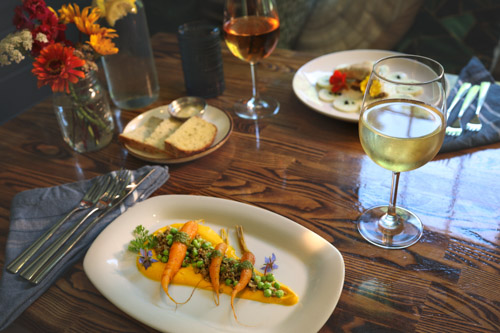 Chilmark Farms' Carrot Party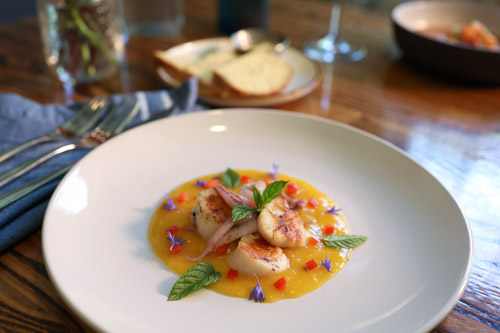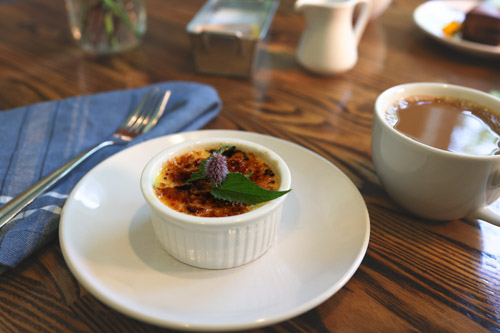 Orange-Basil Crème Brulee
What our guests are saying …
"Woods is a hidden gem on the island of Martha's Vineyard. Tucked away deep in the woods of pastoral West Tisbury at the end of a long, windy road, Woods offers one of the most unique and whimsical dining experiences on the island. The menu reinvents and redefines classical New England dishes. A comprehensive wine and beer list is also offered." ~ Open Table
"This chef has his own style and creates a truly special and unforgettable dining experience. I enjoy the nice atmosphere and the dishes are a great conversation starter with other diners nearby. I always leave feeling satisfied that I ate a fresh, healthy, interesting dinner." ~ Google
"This was without a doubt one of the best meals I've had in my life. The staff was friendly and accommodating and the atmosphere was fantastic. Our server was very personable and the dishes were spaced out to give you a chance to enjoy each course. Would highly recommend … I would give this place a million stars." ~ Connor Toomey